O'Fluff's Charity Event Coming!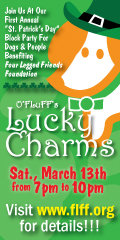 The Zoom Room is donating their space to the Four Legged Friends Foundation  on March 13.  FLFF is hosting a huge celebrity/dog event which will take up the entire block of Teale St.   MadTV's Debra Skelton will host the event.  She will be joined by a pet communicator and a pet masseuse.
The event will also feature live music, drinks, food, art, dog treats, gift bags, and pet photography.  Dress your pooch up and enter him/her in the St. Patty's Dayy Costume Contest.   There will also be a silent auction and a raffle.
We know your dog is sitting up and begging you to take him.  It is THE event for your pup to see and be seen.  A $25 donation gets you and your dog into the block party.  A $50 donation gets you into the Zoom Room's VIP area, where you can mingle with celebrities, have some snacks and drinks, and enjoy live music.
All proceeds go to the Four Legged Friends Foundation.  So, let your dog lead the way to O'Fluff's Lucky Charms Charity Event, March 13 from 7-10 pm.
Signing up is easy — just go to the Four Legged Friends Foundation web site.