O'Fluff's Lucky Charms
Delivers Pot O' Gold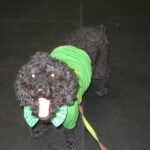 The Zoom Room, in conjunction with the Four Legged Friends Foundation, hosted a St. Patrick's Day charity event last Saturday, March 13.  Dogs and their people were treated to a variety of entertainment including a pin-up for pups fashion show, a dog masseuse, dog psychic, a raffle, a silent auction, and dogs dressed for the holiday everywhere you looked. 
The Zoom Room was headquarters for the VIP guests, who were treated to live music, food, and a green room for the celebrities.
The event was hosted by Debra Skelton from MadTV, but she wasn't the only celebrity on hand.  She was joined by Survivor's Jessica "Sugar" Kiper, Scott Elrod from Men in Trees,  Reno 911's Katie Lohmann, Days of Our Lives actress Alana Curry, and 11-year-old voice actress Jannessa Rose, to name a few.
This was a first for the Zoom Room and the event went off without a hitch.  We could not have done it without our volunteers.  Elisha showed up early in the day and helped transform our training and agility facility into a room fit for the VIPs we were hosting.  Joey, our hip bartender, poured drinks with a smile all night.  Laura spent the evening checking IDs and doing quick math to make sure only people over 21 were served "adult" beverages.  Our ace security crew, Bonnie, Traci, and Dana, kept everyone safe during the event.  We also want to thank all of our loyal members who came out and volunteered, or showed up and contributed to this great charity.  This event would not have been the same without each and every one of you.
Check out our Facebook page to see pictures taken by Karen Maze Photography.