Amethyst is a True Jewel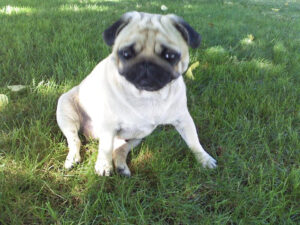 Amethyst is a two-year-old Pug with a huge heart.  Her mom brought her home when Amethyst was only eight weeks old.  Her mom says Amethyst actually "rescued" her after she had been Pug-less for nearly two years. 
When Amethyst's mom brought home two orphan puppies, Amethyst watched as her human bottle fed and cleaned them.  Two weeks later, Amethyst began to lactate and took over the care and feeding of the puppies.  Amethyst is used to her mom bringing home furry strangers and is always the first to welcome them and show them the ropes.
Amethyst LOVES Bully Sticks and her favorite toy is usually the newest dog in the house.  Amethyst sounds like a great dog, and we can't wait to meet her!
We'd love to learn more about your superstar pooch!  Enter our Member of the Month contest on our Facebook page.  You can enter as many times as you'd like, so if you don't win, keep trying!