Swiss Mountain Dog Mix Takes Honors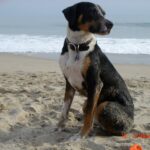 Hudson, a Swiss Mountain Dog/Yellow Lab mix, was born in the South Central shelter on December 1, 2004.  His mother had been brought in as a pregnant stray, and the outlook wasn't good for Hudson, his littermates, or his mom.  But then, a rescue group swooped in and saved the family when the puppies were just two days old.
Hudson's dad, Dan, found him on Petfinder.com when he was about six weeks old.  He picked Hudson from the litter and brought him home to Venice from Agoura Hills a couple days later.  Dan says, "He was adorable, with a wonderful spirit and energy.  Now that he's almost eight, he still has the same demeanor, and people often mistake him for a much younger pup of only two or three."
Hudson's favorite thing in the world is playing fetch.  He's quite the athlete, and is incredibly focused and driven toward chasing down his ball, especially if it's an orange and blue rubber Chuckit ball.  When he's running back to his dad with the ball in his mouth, the look on his face is one of pure joy and satisfaction.  All is right with his world.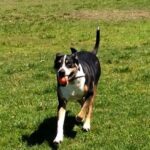 He has a strong guarding instinct, and is somewhat distrustful of strangers, both canine and human.  But he's an extremely sweet boy with those he knows and those who don't give him too much attention too quickly.
Hudson goes to work with Dan every day, and wears two hats:  one as Chief Entertainment Officer and one as Chief Security Officer.  He loves his friend and dog-walker, Jeanne, who takes him to agility class at the Zoom Room every afternoon and stays with him when Dan's away.  He also loves his friend and office-mate, Amy, who sometimes leaves her face wide open for a thorough licking.
Hudson is exceptionally bright and expressive.  His yawns, groans, and other vocalizations are almost human-like.  He makes his dad smile and laugh constantly, and fills his heart with joy and love.  Oh, and he loves butt-scratches and belly rubs.  But who doesn't?!
Not only is Hudson celebrating being Dog of the Month, he is also about to celebrate his birthday.  Happy birthday and congratulations, Hudson!  We are so proud of you!