From Mumbai to LA, Meet Zenzi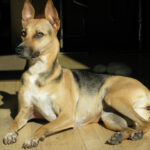 What, exactly, is Zenzi? She is described alternately as an Egyptian dog, kangaroo, Dingo, Gazelle, Antelope, or miniature German Shepherd. No one really knows what breeds make up this adorable mutt, all they know is that she is a survivor, a lover, and the best dog. Ever. Just ask her parents.
Almost six years ago, Zenzi's parents (Lucy and Erik) were living in Mumbai, India. On his daily walk to work, Erik noticed a puppy living under a tiny guard shack. One look into this puppy's eyes forged a bond.  From that point on, Erik made it a point to feed the puppy every morning for a month.
Then, one day, on his way to work, Erik saw that this puppy had been hit by a rickshaw and was unable to walk. Erik didn't hesitate. He took the puppy home and promptly named her after a local bar. The love affair had just begun.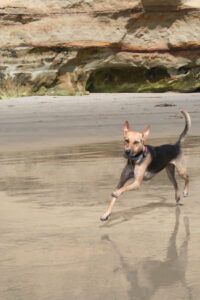 Two long airplane rides later and the removal of most of her left hip joint, Zenzi was home. Her life in Los Angeles had begun.  She showed her gratitude immediately and has never stopped.
Zenzi now lives the life of luxury with her feline siblings, Peanut and Bean.  She enjoys a variety of hobbies, including napping, burrowing under blankets, hiking, going to the beach, agility, and wrestling with her best friend, Jack the Beagle.  It is hard to believe she is missing a part of her hip.  She is fast and agile and, with the right treats, will zip through the weave poles with ease.
Zenzi recently had another traumatic medical issue to overcome.  In February, she was diagnosed with cancer.  In March, two lymph nodes in her neck and tissue from her nose were removed.  Her parents didn't have to worry though.  This Mumbai Miracle has made an amazing recovery.  She only missed two of her Agility classes and got right back up on the A-frame.  Now, her nose points a little to the right, but her parents think it makes her even more endearing.
We are so proud to name Zenzi the survivor as April's Member of the Month!  Congratulations, Mumbai Miracle.