These two amazing St. Bernards are just too much contain for just one month a celebration, they needed 2!
Congratulations Avalanche and Beowoof in becoming August AND September's Dog(s) of the Month!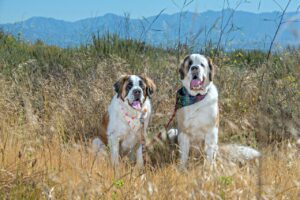 Beowoof and Avalanche are 2 years and 9 months apart at respectively 4 and 3. While they re very similar in a lot of way, they are two very different cute siblings! They just moved to Cali a few months ago from Illinois, along with their 2 humans and 3 cats!
Below has been a Therapy Dog for almost 3 years! He has visited special education schools, hospitals, libraries and now doing weekly visits to LAX as part of the Pets Unstressing Passengers (PUP) program!
Avalance is a free sprit and wild child compared to Beowulf but has a ton (almost but not quite literally) of love to give!  She loves to ham it up for her audience at her weekly Agility classes and loves to show off all her tricks like High Five, Grumble (some cute chewbacca noises) and Be a Bear (which is adorable!).
They both love to dress up and even won a group Halloween national costume contest!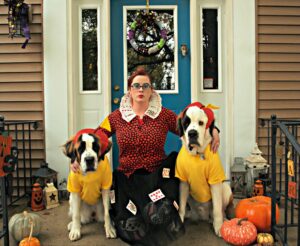 They are a busy family with all the classes, therapy dog programs and traveling they do and we love having them here at Zoom Room!