Mr. Belvedere is Here to Serve
Mr. Belvedere (or "Belvie" to his friends and family) is a Brussels Griffon.  His story started about four years ago, when Belvie was only seven months old.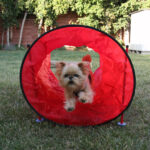 Belvie was living at the Lange Foundation waiting for a family.  At that time, Belvie's mom-to-be, Linda, and her husband decided it was time to find a companion for their Boxer/American Bulldog, Murdoch.  Even though Murdoch is a bit on the big side, he LOVES smaller dogs.  So Linda and her husband set off on their quest.
When they got to the Lange Foundation they were introduced to two smaller dogs.  They were both cute and Linda and her husband couldn't choose between the two.   The only way to know which little dog was going to be part of their family was to let Murdoch decide.  The trio returned to the Lange Foundation the next day.  The first little dog was terrified of Murdoch and ran away.
Then came Belvie.  As soon as he saw the big dog, he ran straight for him.  Linda says, "he ran right up and declared that they were going to be the best of friends."  And it was done.  Belvie found his new home.
Linda and her husband quickly realized just how smart their new family member was. Within three months he had learned all the commands and tricks that had taken Murdoch more than a year to master.   They knew they needed to keep Belvie stimulated and that's how they found Zoom Room.  They enrolled him in Agility and discovered he had a knack for that too.  Belvie currently splits his time between training time at home, agility at Zoom Room, hikes or trips to the beach, and mentoring his new foster sister.
When Mr. Belvedere isn't impressing friends and family with his many skills, he can be found enjoying his favorite treats.  Linda says that his absolute favorite treat is the collard green stalks she feeds the lizards.  Every morning at lizard breakfast time, Belvie can be found right at her feet anxiously awaiting his share.  His second favorite treat, perhaps more understandably, is cheese.  All kinds of cheese.  Any time of day.
Linda says that Mr. Belvedere is honored to be named Member of the Month!  To understand what makes this little guy so special, check out a video Linda made of Mr. Belvedere showing off his skills.