Mini Aussie "Rings" in the Holidays
Warning:  This is the MOST romantic Dog of the Month story we've ever had.
May's Dog of the Month is a seven-month-old Mini Australian Shepherd named Jagger.   His people parents, Zack and Kimberly, decided last November that a dog would make a perfect addition to their family.
After doing extensive research on different breeds, they landed on the Mini Australian Shepherd. More research led them to a breeder in Temecula. Although they thought they wanted a female red tri-colored dog, their hearts and minds were changed after spending a few minutes with the black tri-colored male puppy who would soon become part of their family.  Once they had fallen in love with Jagger, it took a lot of patience and will power to wait the month and a half before they could bring him home.
That wait, however, was the perfect cover for Zack's plans. The couple was able to pick Jagger up on Christmas day… the same day Zack planned to surprise Kimberly with an engagement ring.
Zack writes, "Finally, Christmas Day arrived and it was the day we could go pick up Jagger. And, unbeknownst to Kimberly, it was also the day that I planned to propose to her.  So, during Christmas morning opening presents with the whole family, I pulled out the ring and popped the question.  At first, she didn't think it was real.  But after everyone reassured her that it was, she said yes!"
Because they were both so excited about picking up the puppy, Kimberly never suspected that Zack was excited for another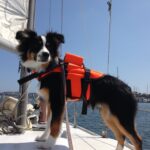 reason too. After they opened all their presents and said goodbye to the family, they went straight to Temecula to pick up their little bundle of joy.  Zack says that Christmas of 2012 was the best day of their lives and the best Christmas… ever!
Jagger has settled into his new life quite well.  He is sweet, loving, loyal and adventurous.  He's up for anything, including sailing.  When he's home, he likes to keep an eye on the neighborhood, and he loves sitting in his parents' laps while playing with his toys.
And now our gift to you, Zack and Kimberly:  a four pack of Private Gym sessions so Jagger can run that puppy energy out!  Congratulations (on your wedding as well)!