Duck Toller Lands in the Right Home

Culver City's Dog of the Month could be a calendar girl with looks like this!  Meet Tessa, a two-year-old Duck Toller Retriever.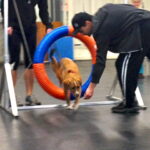 Hard as it is to believe, this looker was an owner surrender at
Perfect Pet Rescue
after growing "too big," for her previous household.  She was lucky enough to be rescued by Patrick and Janet.  Janet hoped to name the little one Piper Perez, but Patrick picked "Tessa" off of the name list provided by his wife.
When they first brought her home, Tessa was afraid of the world.  Just walking outside could make her turn tail and try to run; she'd rather be anywhere but walking on a leash.  Over the past year, Janet and Patrick have worked with Tessa outside and at the Zoom Room to build up her self confidence as well as her trust in her new parents.  With a lot of hard work, and a lot of fun with agility, they've watched her blossom into a fantastic jogging partner and, as Janet describes, an, "Agility Three champ(ish)!"
Tessa is a water dog, through and through.  When she's not zooming, this active girl can be found going bonkers at the Del Mar dog beach.  On quieter days, Tessa indulges in her favorite treat, a big bully stick, chewing it while her parents work, stinking up their whole office.  The little girl also loves playing with her favorite squeaky squirrel, which is brought out on the most special of occasions in the hopes that it doesn't get gutted by her enthusiastic love.
Congratulations, Tessa, Patrick and Janet!  Come zoom around in some private gyms!