Ruby Tuesday Shines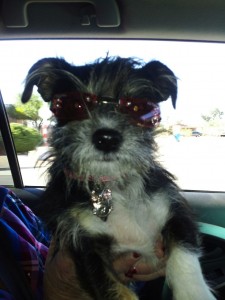 Ruby Tuesday (dubbed the Rubinator by trainer Kris) was rescued by her mom, Alison, just before Thanksgiving in 2009. Alison was perusing Petfinder.com when she came across the little gem. A few phone calls later and Alison brought Ruby home.
Ruby may be a Terrier mix, but she acts like her feline sister more often than not. Ruby loves to play with Mooshie the cat's lure/dangler toy, much more than Mooshie does, in fact. Her other favorite toy is the battery powered mouse inside a circle, which also belongs to the cat.
Ruby isn't all feline, though. She loves a good game of fetch, as long as it's not in the rain.
Alison says that Ruby is an incredibly sweet dog who loves everyone she meets. Her tail never stops wagging and she brings joy to everyone, especially her mom.
Alison adds that Ruby shows her true Terrier colors when it comes to brains and stubborness. Alison says that she wouldn't have it any other way.
Ruby loves agility, and has her own special "victory dance" when she completes the course and is waiting for her treat.
Congratulations, Ruby Tuesday! Practice your victory dance at your FREE Private Gyms!