Best Dog Trainers in Los Angeles
At Zoom Room Dog Training, we're dedicated to everything awesome for dogs and their owners. This is our 10th year in business, and we're thrilled to say we've trained over 6,000 Los Angeles dogs (and their owners) in our indoor, climate-controlled dog gym.
You can't drop off your dog. We want you both to come, stay, learn, play. Our goal is to fill the world with happy, tired dogs enjoying an exceptional quality of life as loving companions. And to provide you with a positive, social atmosphere to meet like-minded dog lovers.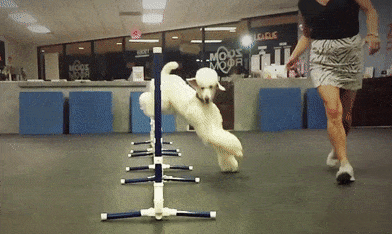 50+ 5-star reviews on Yelp
190+ 5-star reviews on Facebook
Dog Agility Training
Puppy Training Classes
Obedience Training
Therapy Dog Training
Positive dog training only
Small group classes or private lessons
Open seven days a week, including evenings
Affordable! Train your dog for only $95/month!
If you're looking for a dog trainer in L.A., we hope you'll consider the Zoom Room indoor dog training gym. We're located just off the Jefferson exit of the 405, at 11836 Teale Street. You can drop in or give us a call at (310) 636-4606.
Would you like to view our schedule of dog training classes, check out our prices, book an appointment or read some testimonials? Here you go!
We also have two other locations in L.A. County to serve you and your dogs. If you live in the Valley, check out our Sherman Oaks dog gym, or if you're in the South Bay, try our Redondo Beach location.
What Others Are Saying
"We love the Zoom Room and all our instructors. They are able to convey the information we need to train our dogs extremely effectively, without judgement. It is an amazing advantage to take a class only till the point that you need it and then move on to work at your dog's pace. Also, all the instructors are providing the same language and methodology, so there isn't a learning curve for each new person. Our entire family is benefiting from even stronger relationships with our beloved pups. Engaging at the Zoom Room with my teenage daughter has been a blessing in my life. We consider this our favorite activity. My daughter enjoys this more than 'shopping or Disneyland'! Thank you all for your support and love." – Elinor J., Los Angeles, CA
"Chowtz has loved her time at Zoom Room. She was already generally a mellow dog before training but her obedience classes and therapy dog training have refined her skills especially around other dogs and distractions, and she is much more focused and calm. I was amazed to see how much she has progressed in such a short time. Our trainers are always knowledgeable, prepared, patient, and encouraging." – Heidi J., Los Angeles, CA