Bailey is Cream of the Crop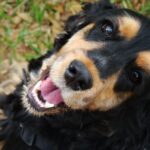 Meet Bailey, a four-year-old English Cocker Spaniel.  Bailey's mom, Vicki, rescued Bailey in October 2009.  Vicki's path to Bailey began in the summer of 2009.  She was checking out different breeders trying to decide what kind of dog she wanted.  She met an English Cocker breeder and decided that's what she wanted because, as she says, English Cockers look "just like living stuffed animals."
Once Vicki decided she wanted an English Cocker, she was disappointed to find that the breeder she had met didn't have any puppies available.  Conveniently, the breeder is also the rescue coordinator for English Cockers in California.  This breeder/rescuer put her in touch with another breeder who was looking for a home for a dog called "Itty Bitty."
It turns out that "Itty Bitty" had been bred to be a show dog.  Unfortunately, she was born with a displaced knee cap.  Surgery helped, but left the young English Cocker with a bit of a hitch in her giddyup.  So there she sat, waiting to be placed in a good home for nearly two years.  She was social and friendly, but had never been on a walk nor been a part of a family.  And that's where Vicki entered the picture.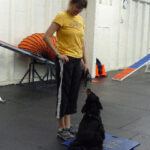 First, Vicki changed her name to Bailey.  Then, she showered her with love and showed her the good life.  Now, Bailey loves going out and making new friends.  Vicki says that every time Bailey sees someone on the street coming toward her, she stops and waits for them to pet her.
Bailey loves stuffed animals, especially her "Mr. Pelican" and her bouncy, squeaky frog.  She also loves long walks, car rides, and Agility at Zoom Room.
Congratulations, Bailey!  You deserve the best!
Want your dog to be Member of the Month?  Enter the contest on our Facebook page!