Small Dog is Bundle of Energy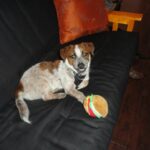 Meet Fred.  He is a big dog in a small dog's body.  A mix of Cattle Dog, Corgi, and Jack Russell, this little guy has enough energy to provide electricity to his entire neighborhood.
His parents met him last August when they were looking for love at Fur Babies Rescue.  They were introduced to Fred and instantly fell in love with his personality.
His dad, Steve, says that Fred is a "fun-loving cattle dog mix that just loves attention, playing, and running."  He will do whatever it takes to look his people in the eye, including crawling on top of them while they are relaxing on the couch.
Fred loves running and playing.  His herding drive comes out often with their cat, Luna, who has learned to cope and enjoy the attention.  Fortunately for Fred, his parents have found a way for him to show off his speed and intelligence and give him an outlet for his herding drive.  They found the Zoom Room.  Fred is currently enrolled in Urban Herding, where he is learning to focus his drive.
Fred always knows when he is headed to the Zoom Room before he leaves the house because his parents break out the special blue leash.  Steve says Fred's eyes "sparkle" when he sees the leash.  Also, he gets anxious when they get close to the Zoom Room in the car.  He has even barked at a stop light because it was delaying him from getting to the Zoom Room. Steve says, "We are happy to have Fred as a part of the Zoom Room family and look forward to many more fun times!!"
Congratulations, Fred!