Siracha Brings Spice to Life

June's Dog of the Month is the first of its kind to walk through our orange doors.  In fact, it might just be the first of its kind to walk through any doors!  Meet Siracha, an eleven-month old Pharaoh Hound and absolute stunner.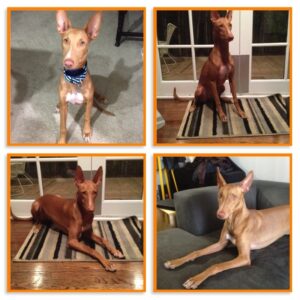 Maggie and Hnedel were ready to get a new family member.  After doing some research on Pharaoh Hounds, they reached out to a wonderful breeder in Colorado (Maureen Del Duca).
Most of Maureen's dogs are shown and entered into various competitions nationwide, so when they reached out to her, they told her they wanted a pet, not a show dog. Luckily one of Maureen's dames had a litter and "Mellow Yellow" was available. A few weeks later, the little pup was put on a plane to Los Angeles. Even though she was skittish and scared from the flight, a few treats and a toy were all she needed to be coaxed out of the crate.
The name "Siracha" was picked after their favorite hot sauce.  Her coat color and spicy personality couldn't have made it a better fit.  Unlike the aloof nature of most Pharaoh Hounds, Siracha is very outgoing, playful and loves nothing more than cuddling on the couch and sleeping with her head in her parents' laps. Her playful nature and unique looks make it easy for people to stop and chat whenever she's out for walks. Siracha has no problem giving everyone a quick hello and a kiss. She's the class clown that brings a smile to everyone's face.
Maggie and Hnedel still have a great relationship with Siracha's breeder and they reach out to her with any questions. Siracha's father, Farley, was recently ranked number one Pharaoh Hound in the country at the 2014 Westminster Dog Show. They suspect the news of her dad has gone to her head, because now she prefers to be called "Racha-Star."
We hope that you still remember us little-folk, Siracha-Star!  Come enjoy a few private gyms on the house!