Luke Uses the Force for Good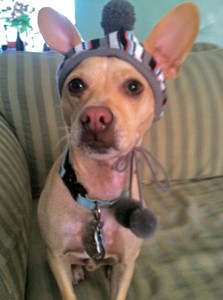 July's Member of the Month is a two-and-a-half year old Basenji/Chihuahua mix named Luke.
In June of 2009, Luke's mom, Taylor, received a phone call from a friend.  The friend found Luke wandering the streets around her house and asked Taylor for help to save the little dog.  Taylor hurried over and captured the dirty, skinny puppy.  Taylor took him home and bathed him.  That night, Luke slept for 15 hours straight!  Taylor thought she had found the calmest dog on the planet… until the next morning, when he had boundless energy.  Taylor says that he hasn't stopped moving since that day two years ago.
Although Luke had never known the love of a person and the comfort of a good home, he adapted quickly.  Although Taylor initially had planned on preparing Luke for adoption, she fell in love with him almost immediately and couldn't bear to part with him.
Luke's favorite things to do include jumping, hopping, sunbathing, cuddling with his big brother, Joey, and sitting on the dining room table.  He also enjoys road trips and has been all the way to Yellowstone Park in Wyoming.
Luke has completed every level of Agility that Zoom Room has to offer and now competes in League.  He can't get enough of running and jumping through the course.
Taylor says Luke changed her opinion of little dogs forever and she can't imagine her life without him.  Congratulations, Luke!  You truly are using the Force for good!