Rugby Tumbled Into Parents' Hearts

This month's Dog of the Month story is told perfectly by his dad, Colin:
After many, many, "Can we actually handle a dog?" conversations, we finally decided, "Okay, let's just start by meeting some pups and feeling it out."  We had brunch up north with some friends (who convinced us it was the day to start looking) and swung past the Lacy Street shelter on the way back to start the homework.  We were there about half an hour moving through rows and rows of dogs of all shape, size, and disposition and then… there he was.  The little black dog with huge eyes and pure white nails.  He was less than a foot high and looked right up at us as we approached his crate.  He didn't bark.  He didn't whine.  He just stared, occasionally cocking his head for a better look.  "Oh jeez…"  We quickly requested a meeting with him.  He was shy, but incredibly gentle and heartwarmingly clumsy.  We were given treats to make him comfortable and, after a few futile attempts at getting his attention, Anna coaxed him over by quietly calling out, "Boston…"  The name didn't end up sticking, but the sentiment was all too clear, "We ain't leaving without this pup."
And because "Boston" didn't feel like the right name, Colin and Anna had a long drive to toss around alternatives.  By the time they got home, Rugby had caught on. It tu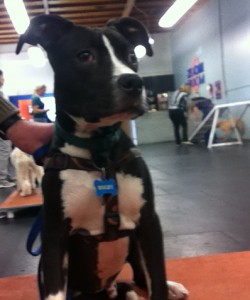 rns out that name was a perfect fit. Rugby loves running around and tumbling with his doggy friends.
This 9-month-old American Staffordshire/Boston Terrier mix has been a part of his family for five months now. He enjoys destroying stuffed animals and indulges in healthful treats such as apples, carrots, and ice cubes.
Little Rugby is a lover.  According to Colin, Rugby loves men, women, children, dogs, cats — he wants to meet everyone. He even tried to give a friendly, 'Hello!' to a skunk the other night.  If you have a lap, he'll sit in it.  If you have a hand, he'll put a toy in it.  He's a good dude."
Congratulations, Rugby.  We hope you bring a friend to your four-pack of Private Gyms so you can tumble and play the day away!