Benji Comes Out of His Shell

Benji and his sister, Pebbles, are German Shepherds who were lucky to find their mom, Mie.  Mie found them at West Side German Shepherd Rescue.  When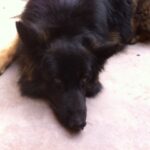 the rescue took them in, they had no social skills.  Mie was told that they were yard dogs with no socialization and no training.
Mie brought them home and introduced them to their new home, full of love and patience. Having spent the first three years of their lives locked up, Benji and Pebbles were shocked every time they left the house.  It took considerable time, care and understanding on Mie's behalf to open up Benji and Pebbles to the outside world.  The first three months were difficult.  Simple walks scared Benji and Pebbles.  The dogs would react to everything that passed them, including  other dogs and their owners.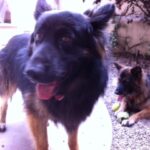 In March, Mie brought Benji and Pebbles into Zoom Room for their first Obedience class.  With the knowledge she gained, Mie worked hard with the dogs at home for a month, slowly but surely building Benji and Pebble's confidence.  They stopped being as afraid on walks and began to look forward to dog park visits.
In May, Mie enrolled Benji into Agility one, and Benji found his calling.  In under two months, Benji leaped through levels one and two, into Agility 3.
Despite being the family agility star, Pebbles makes sure to keep Benji in his place at home.  When Mie needs to brush Benji, his least favorite activity, she asks Pebbles for help.  Pebbles gives Benji a warning growl and Benji calms down, sitting still for Mie to brush him.
Congratulations, Benji.  It is a pleasure watching you embrace and enjoy life.  Enjoy your Private Gym time… you have earned it.