Dog Days for Troubled Youth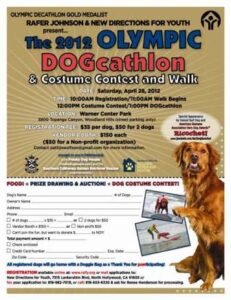 On april 28, come to Warner Center Park in Woodland Hills for the 2012 Olympic Dogcathalon. The event is sponsored by Olympic Decathalon gold medalist Rafer Johnson New Directions For Youth (NDY).  NDY is dedicated to providing comprehensive programs and services to at-risk youth and their families.
The festivities kick off at 11 am with a Blessing of the Dogs.  Right after that, Rafer Johnson will lead a 1 1/2 mile walk around the park.  A costume contest will take place at noon, with the DOGcathalon following at 1 pm.  Registration for the event begins at 10 am
There will be a variety of vendor booths and a silent auction.  When you get there, come say hi and sign up for our Agility clinic.
Warner Center Park is located at 5800 Topanga Canyon Boulevard.  Parking will be available on the street surrounding the park.  Come walk with us for a good cause!