10-Year-Old Greyhound Honored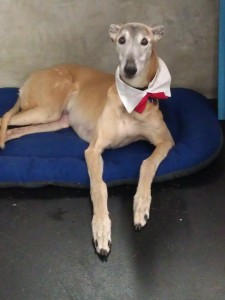 Jazz is a retired Greyhound.  He ran for approximately four years, competing in Wichita, Kansas, Lincoln Park, New York, and, finally, El Caliente, Mexico.  Through the years, Jazz was quite successful and won many races.  When his career was over, he was taken in by the Greyhound Adoption Center in San Diego.
That's where his mom, Rachel, came in.  Six years ago, Rachel met him and it was love at first sight. She brought him home and has treated him like a winner ever since.  Once he was all settled in, Rachel gave him a new job… Cupid.  She told him, "If you want another mommy, you have to pick her."  And, sure enough, Jazz did.
Rachel started setting up playdates for Jazz with a co-worker and her dog.  The dogs enjoyed each other's company, but Jazz's eye was on the human, Olivia.  Jazz was so smitten, that Rachel decided to ask her out.  Rachel, Olivia, Jazz, and his siblings, Emma and Fester, have been a loving family ever since.
Jazz recently celebrated his tenth birthday.  He spent it at Zoom Room Culver City surrounded by family and friends and doing what he enjoys most these days… lounging on his custom made beds.
Jazz may be ten, but he's no slacker.  He just successfully completed Therapy Dog class and is well on his way to being a winner of another kind… one who brings comfort to people in need.
Congratulations, Jazz!  It is an honor to know you.