Clever Costumes Ruled the Night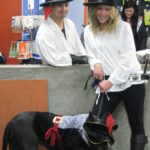 When the Zoom Room turned into the Gloom Room last night, dogs of all shapes and sized donned their best costumes for a night of not-so-spooky fun.  With more than 30 dogs and 50 people in attendance, creative costumes were everywhere you looked.  A variety of dogs and their people came in themed group costumes such as a pimp dog an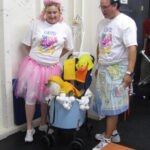 d his stable of "ladies of the night," a dogosaur and his Jurassic Park employee mom, a firefighter with her Dalmatian, and a Minnie Mouse mom with her Mickey Mouse best friend.  The winner of the best dog/parent group costume was Calypso and her parents, who showed up as the Three Musketeers.
Although all the costumes were fabulous, we could only choose one winner from each category.  The other three categories were Scariest Costume, Silliest Costume, and Best Overall costume.  James Bond took scariest honors by appearing as the devil (his mom also sported red glowing devil horns!).
The Silliest Costume category went to Frankie, who would have won the most detailed category if there had been one.  Frankie's parents both cam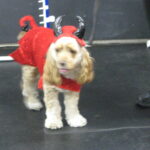 e straight from the shower while they pushed Frankie in his own tub, complete with bubbles and a rubber ducky.
Finally, the judges had to choose a Best Overall Costume.  From the pair of Great Danes wearing little jockies, to a variety of superheros and a billy goat, to name a few, it was a tough choice.  The judges finally chose Little Red Riding Hood with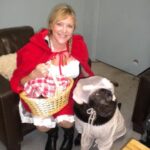 grandma/Big Bad Wolf.
Each winner went home with a free party or a 10-pack of Open Gyms, whichever one suits each dog best.
We had a great time seeing all the creativity and awesome costumes.  We hope you did too!
Check all the great costumes and the rest of the pictures on our Facebook page.