Buddy is Everyone's Friend
Meet Buddy, a 22-month-old Golden Retriever and rising agility star!  Buddy became part of his new family as a 4-month-old puppy, joining his older sibling Parker,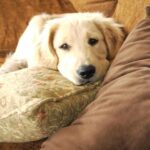 another Golden Retriever. Buddy's family picked him out of a litter from Bonanza Golden Retrievers. They immediately fell head over heels for his loving personality. Buddy, in turn, fell in love with them.
Over the past year-and-a-half with his new family, Buddy has developed quite the taste for ice cream and mom's special barbecue chicken, which he gets as a special "awesome" treat. But if those delicacies aren't available, Buddy is happy with his favorite toy: a tennis ball, preferably Penn, as it smells the best.
On any given day you can find Buddy going on walks with his mom or running through the Agility courses at Zoom Room with his dad.
Walks and Zoom Room allow Buddy to partake in his favorite activities: meeting new people and getting hugs from everyone he meets! Buddy is truly a love bug, so if you see him, make sure he gets a hug!
His parents adore Buddy. His dad, Ed, says, "Buddy is one of the most loving dogs we have ever owned.  He absorbs human contact."  If he isn't with humans, you  can be sure to find Buddy hanging out with his big brother Parker, teaching his older brother some new tricks, listening to classical music, or snuggling with his "mama bear," a toy that he's had since he was a puppy.
It's great having such a love bug as Dog of the Month. Come in and enjoy a four-pack of Private Gyms and extra hugs, courtesy of your fans at Zoom Room Culver City.
Check out more pictures of Buddy on our
Facebook
page.