Zippy Zoe Lives Life of Zeal

The story of March's Dog of the Month is one that humbles the Zoom Room staff and reminds us why we love what we do.
Zoe is a 7 1/2 year old Golden Retriever.  She was the runt of the litter, born to a local breeder who moonlights as a dentist.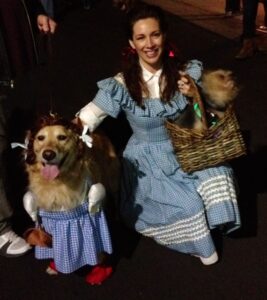 Her future mom and dad had lost their previous Golden, Amber, of 12 years only two months earlier.  While they weren't ready to bring a new companion into their life, they enjoyed visiting their dentist's brood, hugging, cuddling, and cleaning up after the pack.  It was a safe way to heal from their loss, without the fear of becoming attached.
But that changed when the family who had claimed the littlest girl backed out.  The couple lasted only the evening before they caved in, taking the energetic little girl home.  After three weeks and a jump through the entire alphabet, they settled on the name Zoe.  A clandestine name, as "Zoe" means "life" and she gave her parents just that.  So, zippy Zoe joined her mom and dad on their motor sailboat for a life full of adventure.
Zoe enjoyed a busy lifestyle, with road trips to Canada where she camped, fished, and swam in lakes, streams, and reservoirs.  She enjoyed birthday parties with her litter mates, playing in the pool and going on hikes together. She loved riding the Coaster train to San Diego and shopping in Palm Springs, too.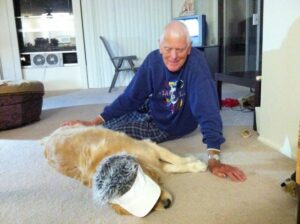 About four years ago, however, her life drastically changed when her human daddy was diagnosed with cancer.  Zoe gallantly stepped up and became a wonderful caring, and loving companion, always by his side through the slow and painful journey.  Her therapy dog lineage surfaced during this time, and her "Golden" personality shined through.
When the journey was over, Zoe was depressed and suffering.  Her vet, Karen Shane, suggested the pup and her mom try the Zoom Room for bonding, and so another journey began.
Zoe's mom, Barbara, says that Zoe "has proven to be the oldest, biggest, most stubborn moocher, and the high jump bulldozer in every class.  But she truly shows that old dogs can learn new tricks."  She gets excited on the drive to Zoom Room when she realizes where she and her mom are going.  Barbara also says Zoe wants to thank her fellow clients and staff for their acceptance and help.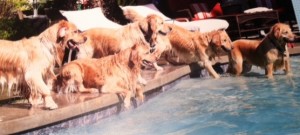 During her free time, Zoe continues to bring joy and love to those around her.  As her mom describes Zoe, "She knows who needs her love and keeps giving that unconditional love to help people get through the difficulties of life."
All of our Zoomy love goes to Zoe and Barbara.  We truly appreciate you and all that you remind us of.  We wish you happiness and many more adventures to come.  Enjoy your Private Gym time.  Bulldoze through all the jumps you want!