Lecture Teaches Awareness, Preparation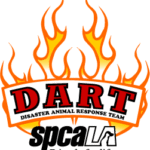 Join us on Saturday, March 5, from 6 – 8 pm  for an informational lecture and fundraiser about animal and human emergency procedures.  The lecture will be given by Ernie Coronel, spcaLA's DART Manager/Animal Protective Services Law Enforcement Division.  There will be handouts and a Question and Answer session, as well as snacks and drinks.
Ernie is spcaLA's expert in this arena and will discuss the importance of the Disaster Animal Response Team (DART).  DART takes part in the "Great California Shakeout" drills and responds to animal rescues all over the country.
DART is comprised mostly of volunteers who dedicate their time to helping animals in need.  As you know, our fine city is facing a financial crisis beyond compare and shelters are facing budget cuts.  spcaLA needs help to keep DART up and running.
Come to our FREE seminar and get important tips for you and your pets. And, if you can, share a buck or two with this important group of men and women.  The first 30 people who make a charitable contribution of $20 or more will receive a gift bag!