Hobbes is a Real Character
Hobbes was rescued from the Baldwin Hills Animal Shelter by Save the Dalmatians rescue.  His mom, Sophie, adopted him from them in September 2004 to give  her other Dalmatian, Calvin, a friend.  Sophie originally intended to adopt a red cat to keep Calvin company, but when she saw the six pound puppy, it was love at first sight.
Although Hobbes came from Save the Dalmatians, he is actually part Dalmatian and part American Bulldog.  He was named in honor of the Calvin & Hobbes comic strip.
In the cartoon, Calvin was a little boy and Hobbes was his stuffed tiger with whom he had many exciting adventures.  Hobbes truly lives up to his name with his sense of adventure and dedication to his mom.  Sophie says that Hobbes is just like his namesake too — he pounces on everyone!
Hobbes is an 80 pound lapdog whose favorite spot is his mom's lap.  His favorite game is ball and his best trick is being obedient for treats and love.
Hobbes enjoys playing at the beach and in the snow, running, biking, and rollerblading (well, running next to his rollerblading/biking mom).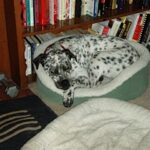 Hobbes' favorite class at the Zoom Room is Obedience 2.  He was at the top of the class during the lesson in "walking"  and he was very proud of that fact.  He also LOVES just running around and chasing balls when Sophie brings him into the Zoom Room for Private Gym.
Do you want your dog to be Member of the Month?  It's easy, just enter our contest on our Facebook page!