Meet Our Favorite Los Angeles Dodger

Dodger is a one-year-old Blue Nose Pit Bull.   Although one might think that Dodger's favorite toy is a baseball, it turns out that he prefers tennis balls.  He loves tennis balls so much, in fact, that he will dive under water to catch one.
Dodger's mom, Tricia, selected Dodger from a litter of puppies that were being given away just over one year ago.   Dodger is everyone's friend, but has selected a neighbor Chihuahua named Penelope as his best gal pal.
Tricia says that Dodger's favorite treats include peanut butter flavored toothpaste and paper boxes.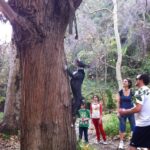 Dodger has two favorite pasttimes.  Check Tricia's backyard on any given day and you will catch a glimpse of Dodger casually doing laps in the pool.  Perhaps Dodger's best trick, however, is climbing trees.  Yes, this pooch is part squirrel and has no problem scaling even the tallest tree.
Dodger loves coming to Open Gym at the Zoom Room where he can chase tennis balls back and forth for his entire visit!
Congratulations, Dodger!  Because you are such a fan of Open Gym, you have won a free five-pack of Open Gyms!  You can come in for Spring Training any time you want.
Does your pup want to be our Member of the Month?  Enter our contest on our Facebook page.