Inspiré Inspired to Love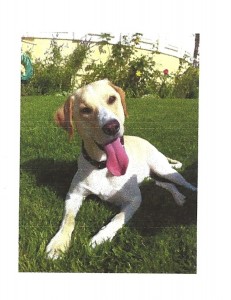 When Inspiré's parents found him, Inspiré had been living at Doggie Do Good for a month. They were going to train him to be a service dog.
Then, his owner lost her house so Inspiré was given to a friend who knew nothing about dogs.
Inspiré spent the next nine months in a backyard with nine other dogs fending for himself. He was very fearful when he arrived at his new home. He came to greet his new parents, Angie and Cory, on his belly.
Moving into his new home proved to be a little stressful. First, he fell in the swimming pool (and has been terrified of water ever since). Next, he did not know what the food bowl was all about. Instead of eating out of it, he wedged himself between the bowl and a cabinet and licked up any spills before eating out of the bowl.
Now, three years later, Inspiré is a much different dog. After obedience training with Stephanie, Inspiré went on to Agility with Cory as handler.
Inspiré has overcome his initial reluctance to try new things and has even overcome his fear of the teeter. His confidence has grown by leaps and bounds in many areas. The water is not one of those, however.
Although he's run away twice, he is now confident and comfortable enough to jump into strangers' cars and lick their faces. Thanks to his "Home Again" tag and TAGG GPS, Inspiré has been returned home safely each time.
Inspiré's parents discovered that he is amazingly fast and will jump up four feet to catch a ball. He gets 95% of them – but his parents are still working on "drop it."
Inspiré loves going to the dog park with his dad, Cory, every day. He also looks forward to walks and going out on the trail with the horse.
Although Inspiré will never be the next American Idol, he sings along to "Carmen" and "CanCan" when he's in the car.
Every night before bed, Inspiré's parents tell him he has a good and safe home and that he's part of their family. He usually sighs. He's happy now.
Congratulations, Inspiré. You are truly an inspiration.