Holiday Specials and Schedules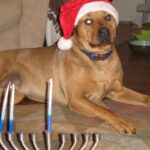 Happy Thanksgiving, Zoomers!  We have lots of news to share with you, starting with our very exciting "Eight Days of Chanukah, One Day of Christmas" sales spectacular.  Chanukah and Christmas are upon us and to help you through the festive yet stressful season, we are offering a variety of sales to bring you cheer and happiness.
Starting on December 10, we are offering holiday specials on different products each day.  Here is our gift to you:
December 10 (Saturday) Cheerful Pet wool toys will be 5% off
December 11 (Sunday) all Real Meat Treats will be 10% off
December 12 (Monday) Tricky Treats will be 15% off
December 13 (Tuesday) Tennis Tail Toys will be 20% off
December 14 (Wednesday) Slip Leads will be 25% off
December 15 (Thursday) Leather Leashes will be 30% off
December 16 (Friday) all Kongs will be 35% off
December 17 (Saturday) all Zukes Treats will be 40% off
And finally, your special one day of Christmas… December 18 (Sunday) all i Love Dogs supplements will be 50% off
All you need to do to receive your holiday discount is mention "Eight days of Chanukah, one day of Christmas" at checkout.
Holiday Hours
Starting this week, we will have special Holiday hours and offer a variety of classes and clinics for you to work out with your pup.  We will be closed Thanksgiving weekend.  From Monday, November 28 through Thursday, December 22, we will be open from 10am – 8pm and Saturday and Sunday from 10am – 3pm.  We will be closed December 23-25.
Monday, December 26, through Thursday, December 29, we will be open from 10am – 8pm.  We will be closed December 30 – January 1.  Our full schedule of Obedience, Agility, Tricks, Therapy Dog, and Scent Discrimination starts up on January 2, 2012.  Check out a complete list of our classes at http://zoomroom.me/cc.
Available Classes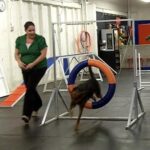 So, what's available during the holiday season?  We are excited to announce our new Agility Clinics!  If you have ever taken Agility classes or just been curious about it and wanted to try one class before signing up for a series, then our Agility Clinic is for you.  The Agility Clinic allows you to work on footwork, courses, signals, or your dog's trouble spots, all with the support of a trainer.  The Agility Clinic is a drop-in one-hour class.  So if you decide you want to come in on the spur of the moment, we will be there!  Or, you can ensure that there will be a spot for you by signing up online in advance.  The Clinic is just $25 – come as often as you like!  Drop-in clinic size not to exceed 6 dogs.
We look forward to sharing the holidays with you!