Doodle All Day in Malibu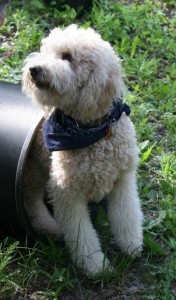 Do you have a Labradoodle or a Goldendoodle who wants to make more friends?  Come to Doodle Romp 2011 on Saturday, September 10 in Malibu. The fun begins at 1 pm and runs until 5 pm.
This is the 10th Annual Southern California Malibu Doodle Romp and Picnic. Billed as the "Biggest Dog Romp in the world," Doodles from all over have the opportunity to play on a two-acre Oak Grove.  The humans who deliver their dogs to the Doodle Day are also allowed to enjoy the festivities.
Each person will be treated to a buffet lunch, glass of wine, and hours of Doodle boasting! There will also be a charity auction, contests, a pet photographer, and vendors.  Come visit us at our Zoom Room booth and introduce us to your Doodle!
The Doodle Romp costs only $30/person (dogs are free).   The price of admission includes your food (AND wine!) and any contests you decide to enter.  Net proceeds from the event will be donated to animal charities.
Signing up is easy… just check out the Doodle Romp evite!  Hope to see you there!