Watching Jonas Have Fun is Fun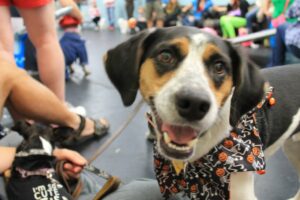 Ann knew Jonas was the dog for her the second she saw his picture on PetFinder, two-and-a-half years ago.  After seeing his photo with the Mochi Bear Rescue in Rancho Cucamonga, she couldn't stop thinking about the seven-month-old Beagle mix and went to meet him.
Jonas, along with his mother and brother, had been rescued from a backyard where they had been neglected and abandoned after being born. Jonas had little socialization and was very timid and shy.  But his sweet Beagle face and stilt-like legs called to Ann, and she brought Jonas home.
With love and affection, Jonas came out of his shell and turned into the athletic, goofy superstar he was meant to be.  He's a hit at dog parks, catching the tennis ball mid-air with a twist and flourish like no one else.  When doing Agility his whole body seems to smile.  Being built for speed, he has a blast running, ducking, weaving, jumping, and balancing.  Oftentimes he adds his own "spin" to the course by repeating the tunnel as many times as possible and sliding to a stop on the table.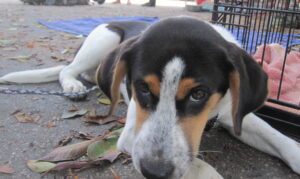 As Ann describes, "It's just fun to watch Jonas have fun."
We at Zoom Room believe that the joys our dogs can bring us aren't solely quantified by how much they love us.  Rather, they are derived from all that our dogs can teach us.  Jonas is a shining poster-pup for some of the most important life lessons…
He teaches us to live minimally; his favorite toy is a rubber barbell because of its versatility. He can play tug of war, fetch, shake-it and occasionally find treats stored inside.  He inspires us to try new things; the beagle in him has NEVER met a treat he doesn't like.  Finally, Jonas reminds us to live for the fun in life and embrace that fun in your own unique way.
Congratulations to Ann and Jonas!  We hope you have some extra fun in your private gyms.