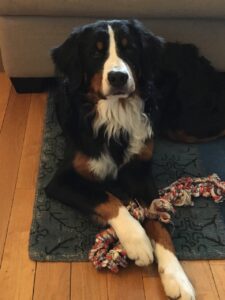 Cusco, a 13 month old Bernese Mountain Dog, is our February 2017 Dog of the Month, and also very good at the art of destroying rope toys! Cusco loves all his toys but mainly a really squeaky snake and his favorite rope, which he has discovered can be many tiny ropes with a sweet and satisfying pulling of the threads that hold them together!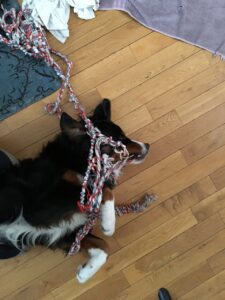 Cusco was given this name after his human Dad had visited the city in Peru and fell in love with all the stray large and fluffy dogs.  Cusco was rescued in the most stealthiest of fashions. We've been told it was the darkest of all nights, and Dad wearing all black and armed with only a rope and a cunning plan, scaled down from a ceiling in a puppy mill and snatched up this handsome looking dog and gave him a forever home.
We are so happy Cusco was rescued so daringly and that he loves coming here to make furry and human friends!  He is a big sweetheart and wins everyone over with his dashing good looks and warm, and goofy personality.
Congratulations, Cusco!