A master of disguise, an accomplished pianist, and an all around cute and cuddly dog, were are proud to announce Chowtz as our Dog of the Month for March!
Chowtz is a fabulous pug that surprised Mom on her birthday!  Instead of getting a Pug calendar, as she requested, her wonderful boyfriend got her this furry friend!
Chowtz loved stuffed squirrels as a young pug, but now has the taste for finer things, such as beef tendons and dental chews. She also loves to snack on treats such as freeze dried turkey liver, dehydrated cod skins, and of course carrots.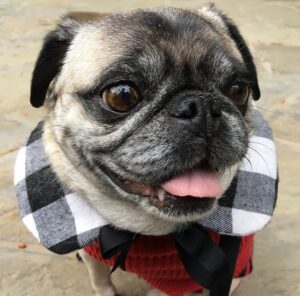 Chowtz, a 10.5 year old, keeps feeling young with some of her favorite activities such sunbathing, going to Pug Meetups, hanging out at UCLA campus and of course being the star of her mom's SnapChats! She also is currently enrolled in our Therapy Dog Workshop and participates in not only our Obedience classes, but also our Agility classes too! One could say she is a social butterfly!
There is no imitation…Chowtz, thank you for being our Dog of the Month!