Santa Paws is Coming to Zoom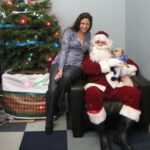 Join us on Sunday, December 18, for our annual holiday party.  The festivities begin at 5pm. Come have your pup's picture taken with Santa (you can be in it too!), decorate some holiday dog doughnuts, and enjoy a variety of food and desserts from the Munchie Machine food truck.
We are also collecting old blankets for the spcaLA.  Bring one and make a dog or cat warm for the holidays.
As our gift to you, we are offering a variety of holiday specials during the party:
Enroll your dog in any class starting in January, and that dog comes to the party FREE (call us at 310/636-4606 to reserve your spot)
Bring a blanket for spcaLA, pay only $5 for the party
Pay $10/dog for the party and receive a 15% discount on any group class in 2012
Spend $50 on a gift card and receive a $10 gift card for yourself
Also, don't forget about our "Eight days of Chanukah, One Day of Christmas" sale!  Stock up on great gifts for your dog and all of her friends!
While you are enjoying the festivities, listen to see if you are one of our raffle winners!  Winners will receive a surprise!  And don't forget, each dog gets her own holiday gift … grab one before you leave and go home with a happy dog.
Happy Holidays!  See you there!