Party Celebrates Life and the Holidays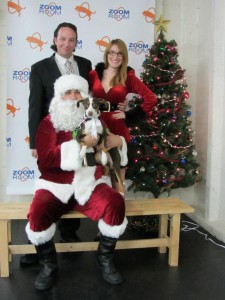 As you have likely heard by now, the Mayan calendar ends this month. Many people predict that the Mayans were a clever group who foresaw the end of the Earth.
Join us on December 16 for a festive celebration of the holidays and the joyous continuation of life as we know it.
Try your hand at our Mayan calendar prize wheel, watch your dog bob for "sacrificial hot dogs," nosh (snack) on treats, and play on our Agility equipment. We will have snacks for people too!
And don't forget about our special guest… have your pup's picture taken with Santa Paws (you can be in it too!).
Each dog gets her own holiday gift and picture with Santa… grab one before you leave and go home with a happy dog.
Plus, as our present to you, check out these specials:
* Enroll your dog in any group class or class package starting in January, and that dog comes to the party FREE (call us at 310/636-4606 to reserve your spot)
* Bring a blanket for shelter dogs and pay only $5 for the party
* Pay $10/dog for the party and receive a 15% discount on any group class or package in 2013. For every $50 gift card you buy for a friend you get a $10 gift card for yourself — buy as many as you'd like!