Welsh Corgi Zooms to the Top
Meet Maddie, Culver City's new dog of the month! Maddie is a playful and happy Pembroke Welsh Corgi, just over a year and a half old.  Maddie is one intelligent little girl, and since coming to Zoom Room, she has zoomed her way through Agility classes.  In only one day she passed out of Agility 1!  Now in Agility 3, Maddie is a master at the A-Frame, climbing up and down it like a champion.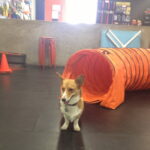 When Maddie isn't jumping through hoops, you can find her playing at home.  Her favorite toys are ones she can play tug with, like ropes and plush toys without the stuffing.  If it has a squeaker built in, she is the happiest girl in the world.
Maddie is also a huge fan of the beach.  She loves splashing around in the waves, barking at the ocean and chasing the other dogs at Huntington Dog Beach.  She was even part of the SoCal Corgi Beach Day at Huntington Beach, when 317 other corgis showed up to play!  "It was a lot of fun," Maddie's mom writes, "until we turned around and she had wandered off.  It's pretty terrifying to look into a crowd of dogs and see all those Corgi faces staring back at you, but not be able to locate your dog."  Luckily, Maddie wasn't too far away, and she came running back to her family's arms when they called her.
And a good thing, too, because Maddie has quite the future ahead of her. Later this month, Maddie will be starring in an online Corgi beach game created by Target. Congratulations to Maddie!  Come enjoy your free four-pack of Private Gyms to escape your fans and play on the A-Frame!
Check out the rest of Maddie's pictures on our Facebook page.