Somba Sambas Into Our Hearts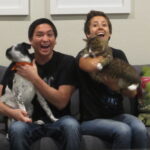 August's Dog of the Month is Somba!  She is a three-and-a-half year old Blue Heeler/Jack Russell mix.  Named after an ancient and mystical style of Brazilian dance, Somba lives up to her name by using her moves in Agility Class and Agility League.

Sara and Matt found Somba through PetFinder.  Sara says, "I was at work – clearly not working – when I came across her head shot and bio.  I called up the rescue group, Forever Fido Rescue, and had a long conversation with the owner of the rescue, Elina. She told us Somba's owner had surrendered her to a vet." That's when Forever Fido stepped in, took her, and found her a foster home. Elina said great things about Somba.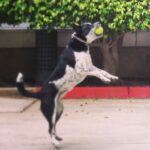 The next step was introducing the potential family member to the cat (who was not going to be happy about the new lifestyle change). The cat did not chase the dog, the dog did not chase the cat. It was time to take the next step. Five months later, Somba and Cleo the cat are almost friends.
Somba came to them with a bag of tricks. Sara writes, "We asked her to sit, she sat.  We asked her to lie down, she laid down.  We asked her to roll over, she rolled over.  We asked her to shake, she shook.  We asked her to high five, she gave us ten.  We jokingly pointed an imaginary gun at her and said 'bang!' – yep, she even played dead."

Five months later Somba is fitting in great with Sara, Matt, and Cleo!  She enjoys playing with her donut toys and sushi pups and loves shoving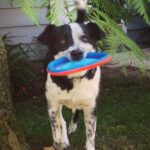 her toys under the couch then trying to get them out, running, sleeping, agility, leg licking, talking, spending time with her uncle and grandparents, and going to work with Sara. Her favorite treats are whatever trainer Steph uses to coax her over the teeter totter.
Why is Somba Dog of the Month? Sara sums it up perfectly: "Somba has continued to surprise and delight us almost every day since – whether it be her unusual dog speak when she clearly does not want to do something, her needy nudges when she wants something, her inability to stop wagging her tail, her larger than life smile, her quirky mood swings or uncanny ability to tell a good joke. We couldn't be happier or more proud of this furry new addition to our family.
And we love watching her dane through the Agility courses.  Congratulations, Somba.  We hope you enjoy your Private Gyms!