Suzie is Queen of the Zoom Room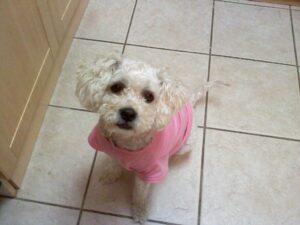 Four-year-old Maltese mix Suzie was rescued from the West LA Animal Shelter one week before Christmas in 2008.  Suzie's mom, Natalie, chose her as a Christmas present to herself.  Suzie is a gift that keeps on giving, providing her mom with hours of entertainment.
Natalie says that every morning when Suzie wakes up, the first thing she does is rub her face on her "blankie" while rolling around on the bed.   Later in the day, she also enjoys curling up in a ball by Natalie's side and napping.
Suzie has been a regular at Zoom Room Culver City for about a year.  She has taken just about every class there is to take, sometimes taking them more than once.  Her favorite classes are Scent Discrimination, Therapy Dog training, and most of all, Agility.  Suzie's favorite piece of equipment is the teeter, which she flies over with ease.
We have thoroughly enjoyed working with Suzie and Natalie and are sad to see them move to Dallas, Tx.  We wish mom and pooch all the best in their new home.