Annual Holiday Party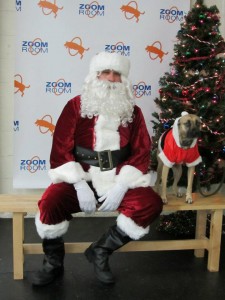 Holiday Party Raises Money For Charity
Join us once again for our annual holiday party.  Santa Paws will be on hand again for pictures, taken by professional photographer Melinda Hersh.  Also, take time to enjoy our Hot Chocolate bar and ornament making station.  This year, we will be spreading the love… proceeds from the event will be donated to Rescue Me, Inc, a local rescue that focuses on helping older dogs and dogs with disabilities.
We are all about sharing the holiday spirit this year.  If you purchase a 10-pack of classes prior to the party, you can come FREE.  Bring any of the below-listed items for Rescue Me and come in for just $5:
Collars/leashes/harnesses
Training harnesses
Gentle Leaders
Stuffed toys
Kongs
Blankets or towels
Call to sign up (310/636-4606) or just use the link below.
And now a quick poem, thanks to Clement Clarke Moore:
'Twas two weeks before Christmas, when all through the shop,
We were preparing the party, getting ready to mop.
The merchandise was hung on the walls with great care,
Knowing that Santa Paws soon would be there.
Tehliah at the register, Kevin in back,
Steph working with Caly while Meghan makes a snack.
The pups were all dressed and ready to play,
Let's go the Zoom Room now, they did say!
On Mumble, on Chopper, on Pebbles, on Murray,
Let's run to the Zoom Room, we're in a hurry!
When:
December 15, 2013
From 6:30 PM to 8:30 PM
Where:
Zoom Room Culver City
11836 Teale St
Culver City, CA 90230
Cost: $$15/person