Mini Aussie Makes Major Headway
Meet Taj, a Mini Australian Shepherd with a lot of heart. Taj's story started just over three years ago, when Judy and Robert were looking for a friend for Asia, another Mini Aussie.
Judy says they met Taj on an "internet date."  The couple found Taj via the internet living on a ranch in New Mexico.
Taj had been sold to someone in Norway, but after the transaction was completed, the Norwegian parents were never able to get him on a plane.  So Taj stayed on the ranch waiting for a new family to love.
That's where Judy, Robert, and Asia entered picture. They liked what they saw about Taj on the web and couldn't wait to meet  him.  They believed that ranch life was good to Taj and thought they were going to fall in love with a well adjusted two year old.
Much like many internet dating experiences, they were surprised by Taj's personality.   Judy said he showed up from New Mexico looking unwashed and unloved.  He was afraid of everything, including strollers, children, and cars.  He was too afraid to walk down the hallway in their home.  On the plus side, he was house trained.
When it came to naming the Aussie, Judy and Robert had no problems.  They had just taken a trip to India.  When they looked at the dog, they noticed that his coloring resembled the inlays and marble walls of the Taj Mahal.  And, thus, he was named Taj.
Judy and Robert enrolled Taj in Obedience classes at the Zoom Room.  They took what they learned in the classroom and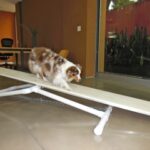 worked with him every day.  Once he mastered the basics, he moved up to Agility classes. Now, Taj is a happy three year old.  Although still a little jumpy, he has gained enough confidence to start learning the teeter.  His mom, Judy, jokes, "He is even getting the teeter down (and up)."  Judy and Robert are working so hard for Taj, they even built him  his own teeter to practice on at home.
Taj has progressed so much in one short year, he has even placed in novice agility trials!
Taj is truly a story of a little dog that could.  With love, patience, and contant training, Taj the Mini Aussie has made major strides and continues to make us, his parents, and everyone at Zoom Room Culver City proud.
Congratulations, Taj!  You (and your parents) earned it!