Join us on January 7th, 2023!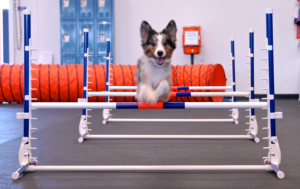 What: $5 Intro to Agility
When: January 7th
45 min – choose from Saturday at 9am, 10am, 11am, 12pm, or 1pm or Sunday at 10am, 12pm, 2pm or 4pm.
What: FREE Grand Opening Party!
When: Saturday January 7th 2023
4pm-6pm
Where:
Zoom Room Centerville (click to learn more about Zoom Room)
101 E Alex Bell Rd suite 104A
Centerville, OH 45459
$5 Agility Classes
To celebrate our Grand Opening, on Saturday and Sunday morning we are offering a few Intro to Agility classes for only $5 (single classes are normally $49!) Space is extremely limited, so if you'd like to sign up for an agility class, click below to choose a time and purchase. Two humans per dog allowed inside our training gym (but there's plenty of room for others to watch from the lobby!). Take advantage of special offers only available during the Grand Opening weekend. Click here to purchase and reserve your dog's spot. 
Grand Opening Party
Bring your dog, your family and come celebrate the Grand Opening of our newest Ohio Zoom Room!  The festivities during the party are free for everyone to enjoy, but RSVP for a chance to receive a special gift bag with treats featuring Gibson Dog Treats, West Paw Toy, and more!  In addition, Zoom Room will donate $10 to the Montgomery County Animal Resource Center for everyone who RSVPs and attends. Click here to RSVP for the party.
You'll be able to:
Check out our indoor dog training facility and meet our great staff!
Take advantage of special offers available only during the Grand Opening weekend!
Paint a commemorative canvas with your dog, that will hang on our community board with your dogs name! 
Take home FREE photos of you and your best friend!
Snap hilarious pics of your dog trying our Bobbing for Hot Dogs challenge!
Try our sensory fun with your dog searching for treats in a ball pit!
Decorate and take home our freshly baked doggy donuts (kids love this one!)
Enjoy delicious food, treats (for humans!) and cold beverages!