Safety Tips for your Canine Companion on Halloween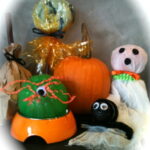 With Halloween just around the corner it's a good time to increase your awareness of potential dangers for your dog during all the fun and festivities.
First item to be concerned about is treats. No human treats are good for your four-legged friend especially chocolate and artificially sweetened treats containing xylitol found in gum. In addition, wrappers themselves can be dangerous if ingested. So keep that treat bowl well out of reach of your dog, and have plenty of dog-appropriate treats available. If you suspect your dog has ingested too much of any of the above items, call your vet immediately.
Halloween decorations are so fun to have around the house but they can also pose a threat. Keep power cords, jack-o-lanterns, candles and any other decorations outside of your dog's reach. Protect your dog from potential burns, electrical shock or worse.
The lovely young trick-or-treaters visiting our homes on Halloween night can also be stressful for your dog. The sight of a spooky goblin (little Johnny from next door that your dog loves) may be viewed as a scary adversary. The constant ding-dong of the doorbell may also cause him to become over-stressed or excited. Best bet is to keep your dog separated from the front door by placing something like a baby gate across the doorway or remove him completely to a separate area of the house. If he is especially upset by house guests with masks on, have your guests take them off when they first meet the dog.
Dressing up your dog in costume may seem like fun, but be cognizant about how your dog feels about it. If he seems scared or anxious, forgo the dog costume and dress yourself up instead. If your pooch seems amenable, keep the costume simple, loose, and without items that could be ingested. Add reflective gear for extra safety.
Finally, your dog should never be allowed unescorted on Halloween due to increased traffic in the neighborhood. Be sure your pooch has all his current identification on at all times.
With a little planning and common sense, you can have a safe and fun Halloween with your dog.
Did you know that every Zoom Room throws an amazing "DOOM ROOM" Halloween party every year? Come join us!