only 6 spots in this workshop!
Details: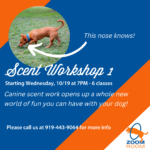 You've asked for it, and we're now extremely excited to announce our first scent workshop!
Canine nose work opens up a whole new world of experiences and fun you can have with your dog while you deepen your bond of trust and communication. You will learn how dogs discriminate scents through fun and engaging search games, and we will teach you how to incorporate scent work into your everyday life with your dog.
Any dog that has graduated from Obedience 1 can enroll in the workshop. The workshop is also great for dogs with less mobility or are too reactive for agility. Scent work REALLY works your dog's brain, so you can expect them to come home happy and tired!
The Scent Workshop is a sequence of six classes on a fixed schedule, every Wednesday from 10/19-11/30. The price is $250 for six classes, which includes a scent kit you will need in class and beyond. The workshop is limited to six dogs.
You can sign up directly on our Schedule page on our website (just look for the workshop) or give us a call!