San Mateo County Dogs Rejoice!
Grab the leash, get the dog, and head over to Zoom Room Belmont on Saturday, April 27th, to celebrate the social aspect of dog ownership in the San Francisco Peninsula!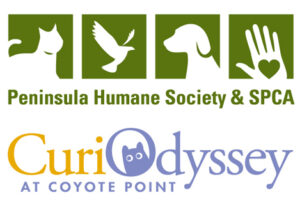 Zoom Room Belmont is conveniently located at 1412 El Camino Real in Belmont (our cross street is Harbor Blvd.), we have our own parking lot and Caltrain's lot is right across the street.
The day's events will include $5 Agility Classes throughout the day and a fabulous party starting at 4pm. Come and enjoy complimentary food and refreshments, dog caricatures, a photo booth big enough for 10 people, a "treat tasting bar" for our four-legged friends, a dog tricks contest, several great raffle prizes, and we'll even fire up our Doggy Disco® light show! This is truly one of those cases where the more, the merrier applies, because for everyone who RSVPs and attends our Grand Opening, we will make a $10 donation to the Peninsula Humane Society & SPCA!
And the fundraising doesn't stop at the door! In addition to the RSVP donations, 100% of all proceeds from our raffles will benefit CuriOdyssey, San Mateo's science and wildlife center at Coyote Point!
GRAND OPENING EVENTS
$5 Dog Agility Classes
Every dog young and old can enjoy agility training! Space is extremely limited and these classes fill up fast, so please reserve your spot now! Classes will be held at 9am, 10:30am, 12:30pm, and 2pm.
**The classes on our Grand Opening day are all full! We would like to show our appreciation for our community's warm welcome by opening two more $5 Agility Classes the weekend after: Saturday 5/4 at 10am and Sunday 5/5 at 3pm.**
GRAND OPENING CELEBRATION 4–7pm
Photo Booth
PixCBooth will supply the human props, we'll supply the doggy toys, and you'll go home with a fun instant print of you and your dog!
Caricature Artist
John Andreozzi, a Peninsula native, has been drawing for as long as he can remember. His unique, animated style will definitely bring your dog's spirit to life on paper!
Dog Tricks Contest
Does your dog know a great trick and loves to be in the spotlight? If the answer is yes, sign up for our "for fun" dog tricks contest during the party! We welcome tricks of all levels, whether it's extremely technical or just for laughs!
Raffles
We will have several great raffle prizes including free classes, free private gym rentals, trainer-approved dog gear, premium dog food, and admission tickets to CuriOdyssey! $5 for 3 tickets, $10 for 8 tickets and $20 for 15 tickets. You don't even need to be present to win as we will have all winning numbers posted on our web site the next day. And remember, all proceeds go to CuriOdyssey, educating children and saving the planet all at once!
Our party is open to all dog owners and dog lovers, completely free of charge. We do ask you to RSVP in advance. And don't forget, for every person that RSVPs, the Zoom Room will donate $10 to the Peninsula Humane Society & SPCA.
We look forward to meeting you, and your dog, at Zoom Room Belmont!