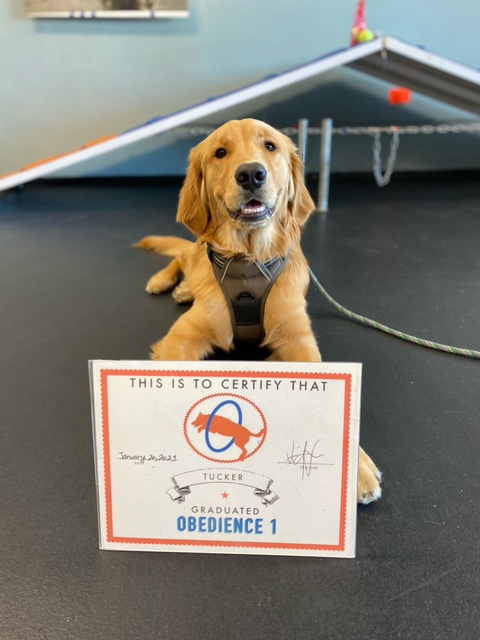 Tucker (aka "Monster") is a 9 month old golden retriever who has been attending classes at the Zoom Room ever since he was about 3 months old. He and his parents have been diligent in training, and boy does it show! When he first started attending Puppy Preschool, he was so shy. But through lots of training, positive reinforcement, and having some extra body guards to help him feel secure, Tucker has truly blossomed into a happy, balanced, and now mischievous teenager. You would never tell he used to be so scared of life! He has attended a number of different classes, including Puppy Preschool, Puppy Training+, Obedience 1 &2, and Agility 1&2. After he started getting confident, Kaitlyn and Anthony continued socialization in our structured Puppy Playgroups. Tucker has the biggest smile, the biggest personality, and completely lights up whenever he's in the gym training! We couldn't be happier with Tucker's progress and continue to help him "make good choices" 😉
Favorite Toy: Stuffed Sloth from his grandparents
Favorite Treat: Bully Sticks
Favorite Trick: Carrying home Amazon packages (And sticks. And pinecones. And virtually anything he shouldn't have.)
Favorite activity at the Zoom Room: Puppy Playgroups; Agility is a close 2nd!
Tucker's owner, Kaitlyn & Anthony, had this to say:
Our favorite memory is of small Tucker, when he used to pick up his stuffie (which was as big as he was) and waddle out of his crate every morning to greet the day! He has gone from a shy pupper to a confident teenager thanks to Zoom Room. We're so happy we get to share his big energy and mischievousness with the Belmont fam!