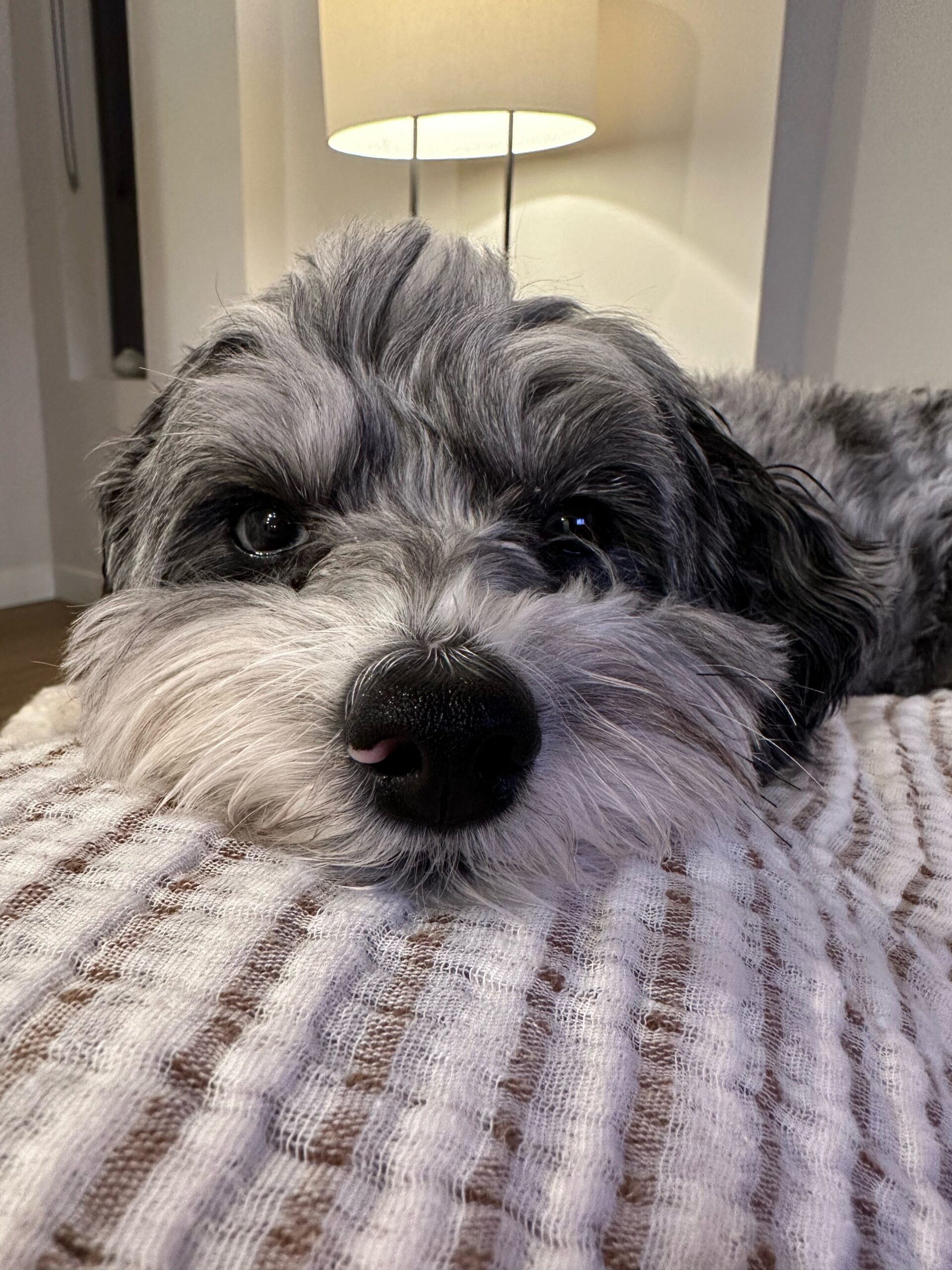 Hi! I'm Nova. I'm a mini aussiedoodle and I was born on 12/31/19. I'm my parents 'only child' and I LOVE doing anything and everything with them (pandemic pup). I'm pretty convinced I'm half human. I've never met a person I didn't like, although I can be a flirt!
I started attending Zoom Room in March and it quickly became my favorite place. I became best friends with the entire staff – I cry with excitement when we pull up. Mom and I get to do agility together which is really fun. They teach me and my mom new tricks all the time, we even do scary stuff like the teeter, which I'm getting more brave about every week.
When I'm not giving it my all at agility, I can be found perched on the highest piece of furniture I can find (cats have the right idea), or herding my humans around so they don't get lost which is a constant battle. If you see me around, please say hi!
Nova's owner, Christine & Alex, had this to say:
We had no idea how much joy we were signing up for when we brought Nova home at 8 weeks old. She has been an absolute joy from day one. She is SO eager to please, wicked smart, and such a lover. Keeping her mentally stimulated and getting her enough physical exercise was always sucha challenge – long fetch sessions, swim lessons, puzzles and games at home…and still she seemed to want/need more. We are SO grateful for Zoom Room. The classes, private sessions and open gym options give us literally everything we could possibly need and helped us discover our shared love of agility. Watching Nova blossom over these past 6 months has been an amazing experience, and definitely bonded us with her even more (if that's possible). We love the whole Zoom Room staff, each person brings so much to the table and really takes the time to get to know us and our goals. It's quickly started to feel like a second home and we are so happy about that.