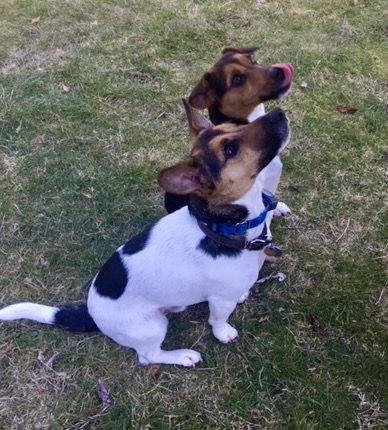 Hi, we are Riley( with ears that stand up) and Spree( with ears that fold down.
We are brother and sister and came from a dairy farm in Ireland( our human family wanted " old fashioned Jack Russels" that were bred to do tasks around the farm and barn)
And we love our tasks in Bellevue- keeping squirrels, rabbits and crows out of our yard. It requires constant diligence!!! In addition of course we are cuddle bugs when the work day is done and love hanging out on our many dog beds and resting while our humans relax.
We have been travelers- there was the plane trip from Ireland of course- and our long road trip to Florida stopping at dog friendly parks and restaurants. We got to meet so many fun dog loving people on the trip and in Florida too.
Now we are learning agility at Zoom Room. Luckily there are two of us so we can do team work- Riley the brave one shows the way to do things and perfectionist Spree who doesn't like to risk a mistake gets to see how it's done.
We are so glad Zoom Room came to Bellevue so we can keep having adventures and learn new things while attending to our yard guarding tasks.
We are very pleased to have been asked to be dogs of the month. We feel quite honored.
Riley and Spree
Spree & Riley's owner, Nancy, had this to say:
🙂