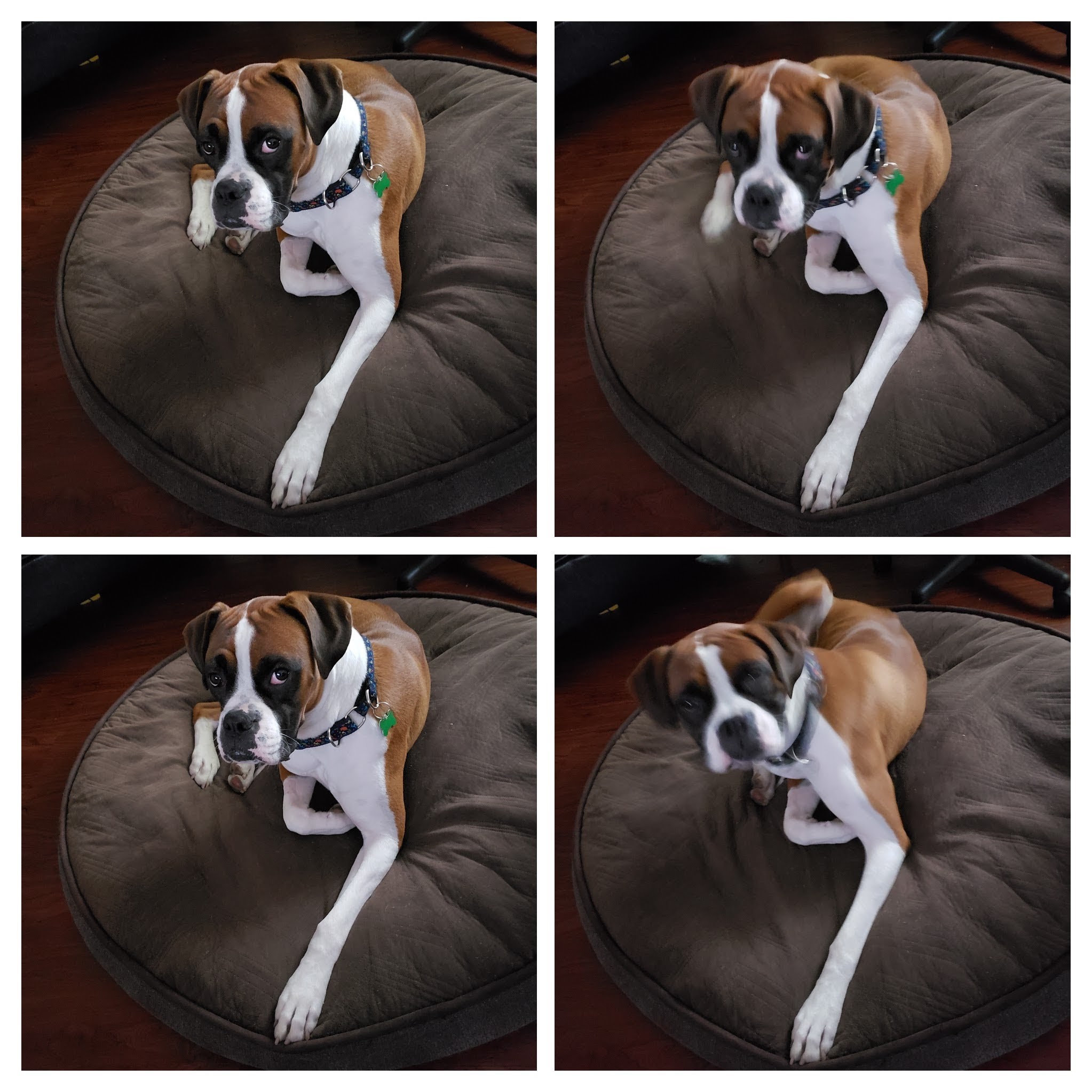 Hi my name is Bullwinkle and I'm 2.5 years old. My mom is a white deaf boxer and my dad is a brindle boxer. I was happy living with my parents and siblings in eastern Washington but my human parents had to surrender all of us except one due to one dog policy by their landlord. Northwest Boxer Rescue came to the rescue and I was placed in a foster home where I stayed for one week. On October 2nd, 2022 I was transported from Pasco to Ellensburg and then to North Bend where I met my foster to adopt family. I was so scared so I didn't want to get into the car but as soon as I did I peed in the backseat. On November 8th, 2022 I officially became part of Kang/Yang family. My thought in life is "Don't worry, be happy". I don't know what's up with these uptight dogs and cats when I put up my paws to give them high 5s, they back away. I thought the high 5s were way to greet each other. Also I get excited to see people. I want to be their best buddy by jumping up to them to give high 5s again and they back off and look at me weirdly. I think my human family members are trying to curb me from doing that, so I get more desperate, so I yell at them to come and see me. I have a snobby sister named Sunny. She's a tripawed 14 year old Boston Terrier. She is bit reserved and cranky. She doesn't like to play with me no matter how much I try to impress her. I'm a happy dog and one of my favorite times is going to Edith Moulton off leash dog park where I get to run around and meet as many dogs as possible. People are impressed with how fast I run. When my dad takes me for a walk I can't wait to meet other dogs, but he sometimes will not let me meet them because I'm supposed to work on my manners. I love all the yummy food my new parents have been feeding me. I'm trying to be a good dog, but it's hard. I'm really working hard at it. One thing I found out about my human family members. Mom is strict, better not challenge her. My brother is playful, but also strict. My dad….I can get away with anything. He thinks he's strict, but I know I can get away with anything with him. Last thought, my family loves me unconditionally and takes good care of me (just recently found out we get a steak for our birthdays from my sister), so I'm happy. Oh, I'm so glad my parents enrolled me in agility sessions and obedience classes at Zoom Room. They are challenging and I love all the trainers who I have given kisses to…
Bullwinkle's owner, Ryan, Taryn, and Nickolaus, had this to say:
We lost Diesel (boxer) due to cancer last September and we were very sad but we decided to try foster to adopt program where we got Bullwinkle. He is totally opposite of late Diesel who was reactive ( wanted to attack strangers and other dogs). Bullwinkle is a social butterfly who wants to meet everyone in the world. He's a love bug. We love him very much and so proud of him for passing agility level 1.