Dress Up Your Dog!
And Benefit a Great Cause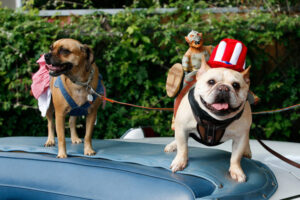 One of the beautiful things about the Zoom Room is that we provide the perfect place to host all of your dog-oriented events including birthday parties, meeet-up groups, and the occasional costume party.  You can book your event online now – check pricing and available party times.
If you just can't wait until our Grand Opening in July to attend your first doggy costume party,  Austin Pets Alive! will be hosting the Trailer Park Pet Prom with a costume contest, live music, and a silent auction this Saturday June 5th.  Austin Pets Alive! is a phenomenal Austin organization with a plan to make Austin a no-kill city, so the event benefits a great cause. Visit the Austin Pets Alive! site to find out more information about the event, and to view the video from last year's prom.