A Brand New Shelter for Austin's Rescue Animals!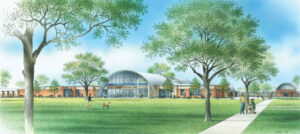 The community turned out last Saturday to celebrate the opening of the new Austin Animal Center with a ribbon cutting and a first look at the new facility. Everyone – from city officials, project personnel, AAC staff  to Austin animal lovers – wore a big smile. It was an exciting day and a huge milestone for Austin.
The new Austin Animal Center is a marvel! It's large and airy with sunshine pouring in through vast walls of windows. Those of you who adopted a pet from the old Town Lake Animal Center, remember waiting in tiny, crowded rooms to speak to a counselor and pick up your new pet. Well, no more! Walking in the front doors of the new facility, you enter a large, open area with about a dozen stylish counselor stations and plenty of seating. And that's just the beginning of the changes you'll encounter on your visit.
The dogs are housed amid Hill Country landscaping in modern, hygienic kennels. There are extra-roomy kennels for dogs who have been at the shelter for a number of months and a separate indoor area for puppies. The cat and rabbit areas are extensive and designed to make it easy to walk through and see the pets.
In true Austin form, the site is also eco-friendly, with many sustainable features including solar panels, low-flow fixtures, a solar hot water system and water permeable pavers.
We know this is a time of year when a lot of families add a new pet to their household.  At the Zoom Room we are big supporters of rescuing dogs that need good homes. To show our support, if you adopt an animal from the Austin Animal Center between now and December 31st, we'll give you a one-time, 10% shopping spree on anything in the store! This will go a long way to get you stocked up on the food, leashes, collars, toys, treats and training gear that you need to start off with a new pup! Just make sure to bring in your adoption paperwork and mention this deal when you check out.