Zoom Room Austin is making headlines!

This past week is a perfect example of why we love Austin.  The grand opening party was a huge hit – we had over 100 dogs visit the facility in one night!  And they all got along beautifully!  We were also able to raise $1,000 for the Animal Trustees of Austin, so huge thanks to everyone who attended that night for helping us support one of Austin's high-impact charitable organizations. We will be posting pictures and video of the event soon – thanks for your patience!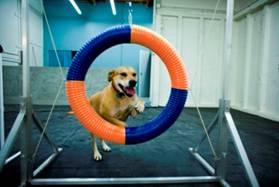 And, just to make the week that much more exciting, the Zoom Room Austin was featured in a few local media venues. First, Bettie Cross from KEYE news dropped by the Zoom Room and spoke with us for a few minutes.  You can view the video and read the article on their website.   We were also featured in the Austin Business Journal. We are very honored to be getting this much attention, and hope that everyone else is as excited as we are about having the Zoom Room in Austin.
Most classes have filled up quickly, but there are still a couple with some free spots. Check out our schedule and prices to see available times for Agility 1, Shy Dog, Puppy Preschool, Puppy Agility and Obedience 1 classes. We look forward to seeing you soon!