Get Back to Basics with Taste of the Wild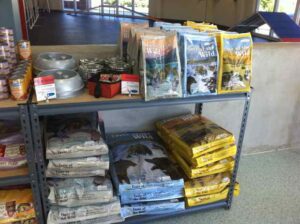 Concerned about your dog's health? Looking to support your pet's immune system the "natural way"? Your dog's diet is one of the most important components of his overall health and happiness. Here at the Zoom Room Austin, we carry the highest quality dog food products on the market. We can't wait to tell you about Taste of the Wild, our newest offering in premium dog food.
Taste of the Wild prides itself on creating a dog food product that caters to your pet's "wild side." Even though we have domesticated our pets, dogs still have a taste for the wilder protein sources. Taste of the Wild produces grain-free food with premium, protein-rich ingredients. Choose from High Prairie Canine (with roasted bison and venison), Pacific Stream Canine (with smoked salmon), and Wetlands Canine (with roasted duck, chicken, quail, and turkey). These high-protein sources are mixed with a variety of fruits and vegetables (like raspberries, blueberries, and sweet potatoes) for a burst of amino acids and antioxidants. We have to be honest, dog food never sounded so good!
If you are dissatisfied with your current dog food, or just looking to upgrade your pet's food to a more natural, healthier choice, we heartily recommend Taste of the Wild. Their top-quality protein sources mixed with vitamin-packed fruits and vegetables are one of the best choices for your pet. If you're interested in making the switch to Taste of the Wild or would like more information on any of our high-quality dog food diets, please feel free to stop by the Zoom Room anytime or call us at 512-371-1223.
See you soon at the Zoom Room!